Since we announced the release of Spreeder Pro for iPhone, the response has been unprecedented. Tens of thousands of iOS users have visited our website, answered our survey, or contacted our helpdesk. In this blog post we answer your most common questions about Spreeder Pro for iPhone.
We truly believe this is the most important thing we have ever done to realize our vision of changing lives by changing the way people read. We are very excited to be bringing your Spreeder Pro iPhone soon!
NOTE: If you have not completed the Spreeder Pro iPhone survey, we'd REALLY appreciate it if you could click here and do it now. It only takes 20 seconds and we're checking every response before we go live.
If I start reading on my iPad or laptop, can I continue where I left off on my iPhone?
Yes you can. That is exactly the idea. Your cloud library and reading is wherever you are, whenever you need it, whether that be on your desktop, iPad, laptop or iPhone. Spreeder remembers and syncs the position in every book you're reading across all your devices.
I already have Spreeder Pro on iPad and desktop; will I automatically be given access to the iPhone version too?
Absolutely! We stand by our customers and we'd never charge you more to access a new platform. All existing Spreeder Pro customers will be given access to the iPhone version at no additional cost.
What if I'm not yet a Spreeder Pro customer?
If you're not yet a Spreeder Pro customer, please don't buy Spreeder Pro yet. We'll be doing a launch special offer with a huge discount to celebrate the iPhone release. Stay tuned for more information.
How flexible is the speed e-reader?
The famous Spreed (speed e-reading) function is better than ever on the iPhone. It has powerful settings so you can make it match you reading style. You can adjust the number of words, number of lines, fonts, and advanced settings. There is configurable punctuation pausing and much more. You can stream text a word at a time, multiple words, and do manual reading. It all means you can read more material and comprehend and learn and much higher rates.
How much time can I save by using Spreeder?
If you read a lot, you can save 5-7 hours per week and possibly a lot more. Many Spreeder users are reading at 3-4 time their normal Speed. This allows you to stay on top of all your reading, learn more, boost your career, be knowledgeable and interesting, and much more.
Will the iPhone version have step-by-step training to eliminate bad reading habits?
Yes, there will be step by step training to address your bad reading habits like subvocalization, regressing (unnecessary rereading), and single word fixations.
Does it support my language?
Spreeder Pro supports all languages that read left to right, top to bottom.
Are the expert training courses available on the iPhone?
Yes, all the expert training courses are available on the iPhone. Your course progress is synced across devices. So you can start training on your laptop or iPad at home, then continue on your iPhone on your commute.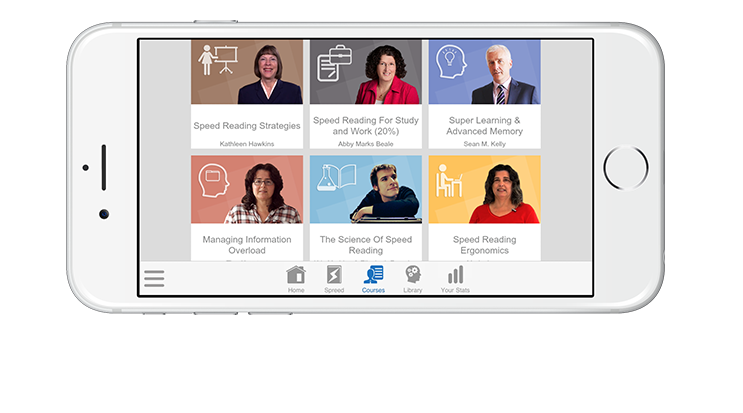 Can I use it to read web pages?
Yes it's easy to speed read web pages with Spreeder iPhone. You can enter a URL and the intelligent software will automatically extract the readable text (i.e. it removes menus, ads, and other unwanted elements). Alternatively, you can go to a webpage and simply highlight the text you want to speed read. This function is great for absorbing and learning large amounts of material online easily.
Does it come with e-books?
Yes. Your Spreeder cloud library comes pre-loaded with over 20,000 ebooks and you have full access to these on your iPhone. This include business books, self help, history, arts, religion, news, and much more.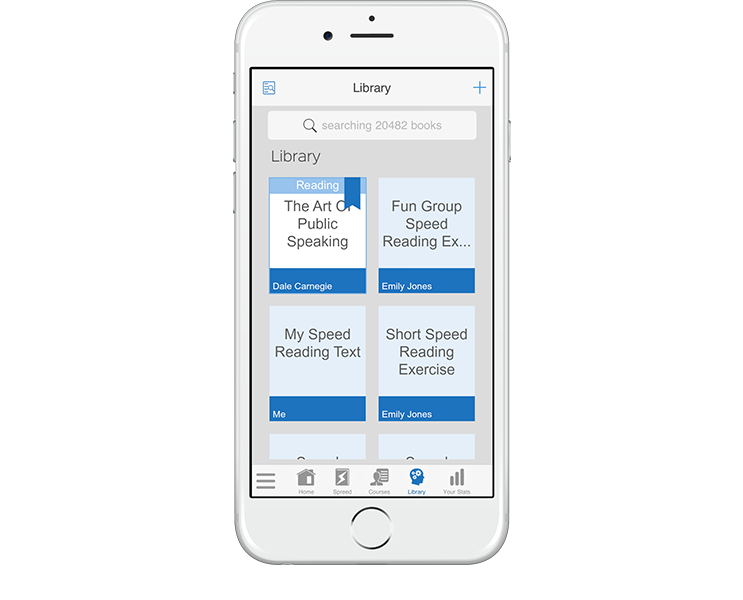 Does this work on Android phones and tablets?
Not yet. We have plans to release an Android version later this year. All users of Spreeder pro will automatically get access to the Android version at no extra cost when it's released.
Is an Internet connection required to use Spreeder iPhone?
An Internet connection is not required to continue speed reading your current book or text. However, you'll need a connection to change books or access the training courses.
I can't wait! When will Spreeder Pro iPhone be released?
We are working hard to add the final touches right now. We expect it to be released before the end of April. Stay tuned for more information.